We Have the Following Retired Cats Available at this Time
Adult cats are spayed, current with all vaccinations and microchipped. I provide pedigrees and their registration with TICA which will be transferred to their new owner. I charge $200.
Retired Queen: Sarsenstone Pipsissewa of Quizzical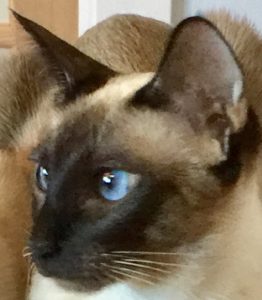 Pipsi
Pipsi is just two years old this month, February, 2018. She is very smart, athletic, loving and gorgeous.
Being a retired queen she needs to go to a home where she will be the only cat.
Pipsi's biggest demand is that she have a lap to sit in and a person to greet with purrs and a chat.
She enjoys being adored and she will follow her people wherever they go to assist with whatever they do.
She is a true Thai. : )
Here is Pipsi showing off her running skills. She is very fond of being praised while she runs as she is proud of her prodigious skill on the wheel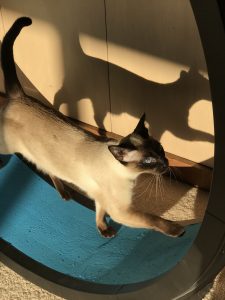 Retired Show Cat: Quizzical Tamanawas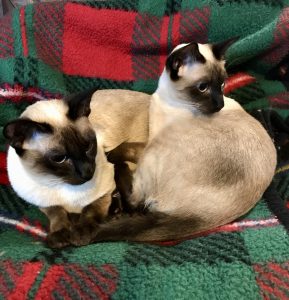 Tamani on the right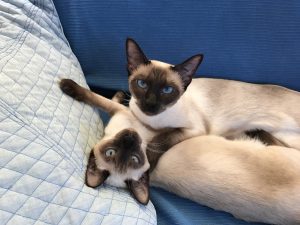 Tamani on the bottom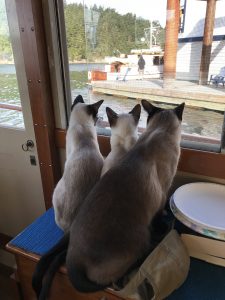 Tamani in the middle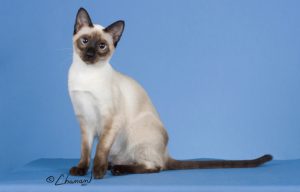 Just Tamani (as a baby)
Tamni is one year younger than her mommy, Pipsi. She was intended as a queen but her slightly crossed eyes and very small
tail kink mean she is available for adoption.
Like her mom, she is intelligent, athletic, and a very loving, lovely girl.
Tamani also follows her people and is very willing to help with all household chores.
She stops whatever she is doing when one of our cars pulls up the street so she will be ready with her purrs and chatting upon our arrival.
She, too, is all Thai and will be a loyal and loving companion.