We Have A Retired Queen Available
We are looking for the perfect home for our retired queen:
Sarsenstone Pipsissewa of Quizzical

Pipsi is 1 1/2 years old and is a darling active little girl. She weighs between 8 and 9 pounds, is very athletic, and loves to purr and to play. In spite of having had one litter she still considers herself a kitten. She has lovely coloring, gorgeous deep blue eyes and is vocal when she has something to tell you. She follows me room to room, sleeps with me, is extremely intelligent and aware and will be an amazing companion. My process is similar to kittens except I charge a $200 adoption fee which includes her being spayed, current with all vaccinations and she has been microchipped. I provide her pedigree and she is registered with TICA which will be transferred to her new owner.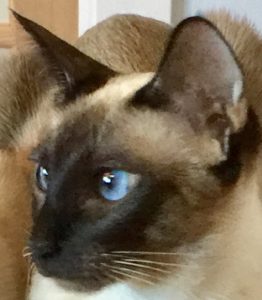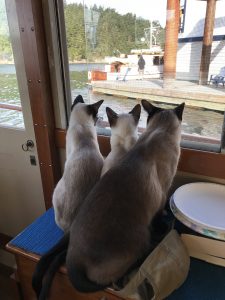 Cruising with us this month. She is far left.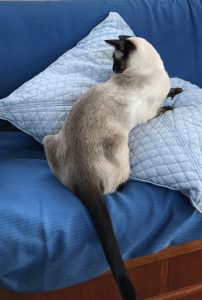 Playing with her kitten under the pillow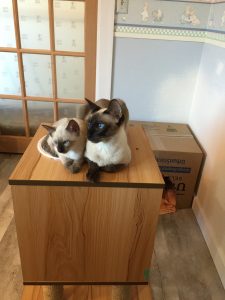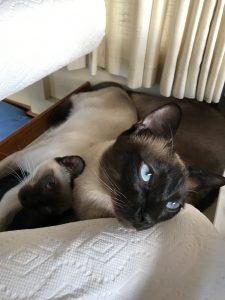 The pictures here are from Pipsissewa's first litter Born February 17, 2017
The little ones are 5 weeks old here and they are very accomplished! The litter box is now part of their lives and weaning has begun. They play hard and sleep harder. There is nothing sweeter than the tiny purrs when they settle in my arms to sleep – or the tiny, fierce twitters they make as they scamper in play. Each has a cute personality all its own but all are exhibiting their mother's spunky attitude.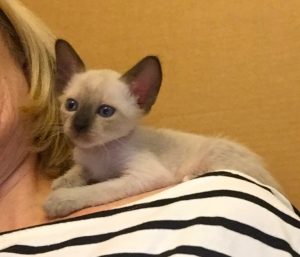 This little girl reminds me of an Egyptian cat. She decided early on that her spot is on my shoulder facing forward. She was the first one out of the nest, first to figure out getting to the top of the scratching post and one of the first in the litter box and to figure out drinking from the bowl. Nothing escapes notice with her.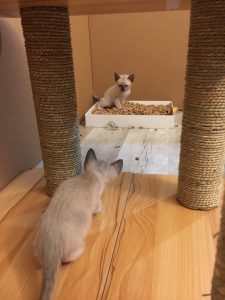 They now all use the litter box! Sometimes they use it to get a hockey puck (the litter – not something unmentionable!) to play with but they know where to go when they need to go.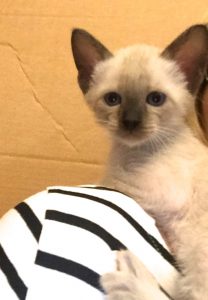 And this is the biggest boy. He has a kinked tail. He started saying hello to me before any of the others. If a tiny kitten popped out of the nest yelling a hello to me as I came in the room I knew it would be this fellow. He was the first to climb my legs and to fall asleep purring in my arms. A very sweet and demanding little fellow.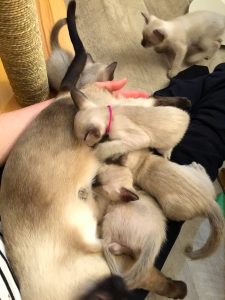 Pipsissewa was wanting some attention of her own while kittens were roiling around us. She climbed into my lap for some bonding time with me, only to find that some opportunists took advantage of the situation!